KingLED Newest 1000w LED Grow Lights with Samsung LM301B LEDs and 10x Optical Condenser 3x3 ft Coverage Full Spectrum Grow Lights for Indoor Hydroponic Plants Veg Bloom Greenhouse Growing Lamps
KingLED Newest 1000w LED Grow Lights with Samsung LM301B LEDs and 10x Optical Condenser 3x3 ft Coverage Full Spectrum Grow Lights for Indoor Hydroponic Plants Veg Bloom Greenhouse Growing Lamps


* HIGH QUALITY LED GROW LIGHT: KingLED grow light has adopted the newest Samsung LEDs and 10 times Optical Condenser to provide high PAR output, high energy efficiency with 2.8 umol/J while improving light penetration. Perfect for 3'x3' vegetative coverage and 2.5'x2.5' flowering coverage
* Energy saving: just consumes about 185w power,the electricity is 0.185kW·h per hour.Saving more money than HPS/MH lamp; Worldwide Voltage:85v-265v,plug and play.
* Full spectrum: the light include red,blue,yellow,white,IR and UV which is similar to the sunlight,ideal for all kinds of indoor plants veg and flower at all growth stages.
* Efficient cooling system: some holes on the led board(thickened, ours:3.0mm, others:1.6mm) and the glass form convection with the fans,efficient heat dissipation.And every led has a resistance to keep them work separately.


Specifications
Dimension: 12.2x8.26x2.36inches
Power:1000w(100pcs*10w)
LED Type: Epistar LEDs
Full spectrum for vegetative and flowering stage: 410nm, 430~440nm, 450~475nm, 620~630nm, 650~670nm, White, IR(730nm)
(It is hard to see clearly by eyes, very dim.Please don't think they are not working. Instead, it plays an very important role in the flowering and fruiting stages of plants.)
Coverage Area: about 3.4 x 3.8 ft(The lighting area and the height are changeable according to different plants and environments.)
Lifespan: >50,000hours
Worldwide Voltage: 85v-265v
Working Frequency: 50~60Hz
Modular Power Cord(Available in US, UK, EU, AU,JP)
Using Tips
Lighting Time setup: Vegetative Stage: 12-14 hours on; Flowering Stage: 9-12 hours on. Fruiting Stage: 7- 8 hours on
Suggest distance above plants: 2-3.5ft.
Attention
Do not use the lights in dripping water or anywhere where they will get wet, water and electricity can be a dangerous mixture.
The working environment is -20~40℃,45%RH~90%RH.
To protect the light, Pls cut off the power when there is a lightning strike.
Don't touch or move when the light working.
Package includes
1pcs King Plus 1000W LED grow light
1pcs free power cord
1pcs free hanging hook(Easy Installation)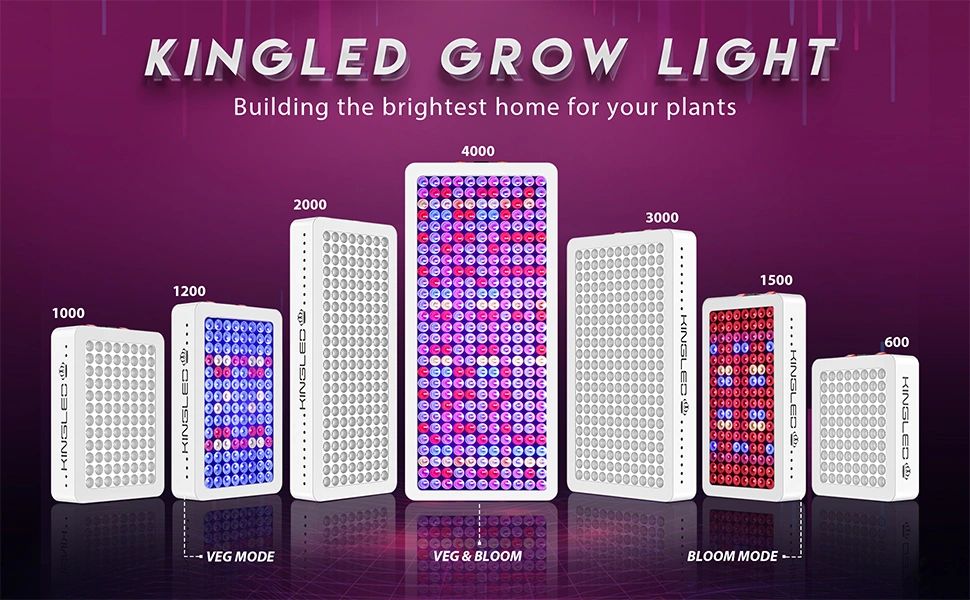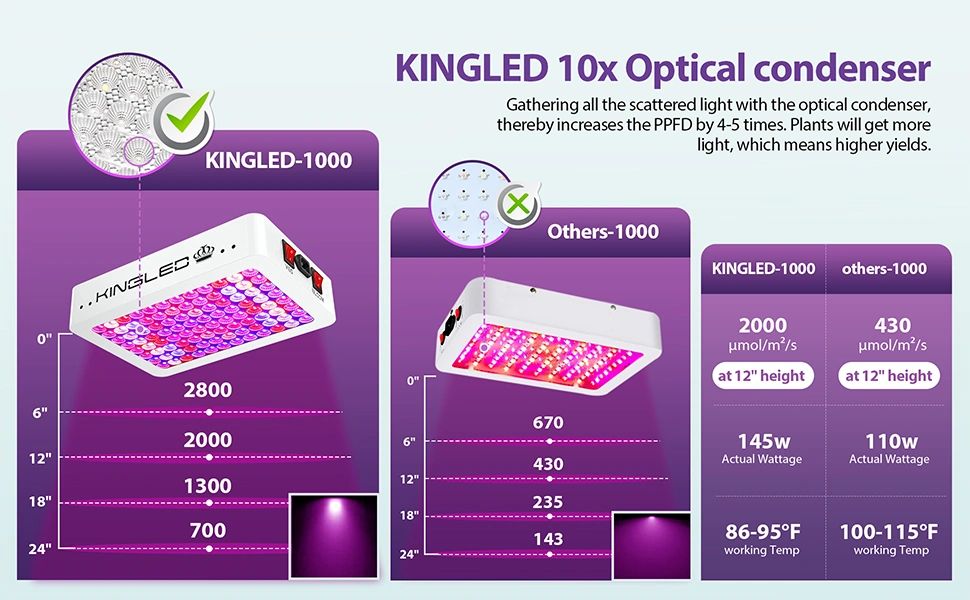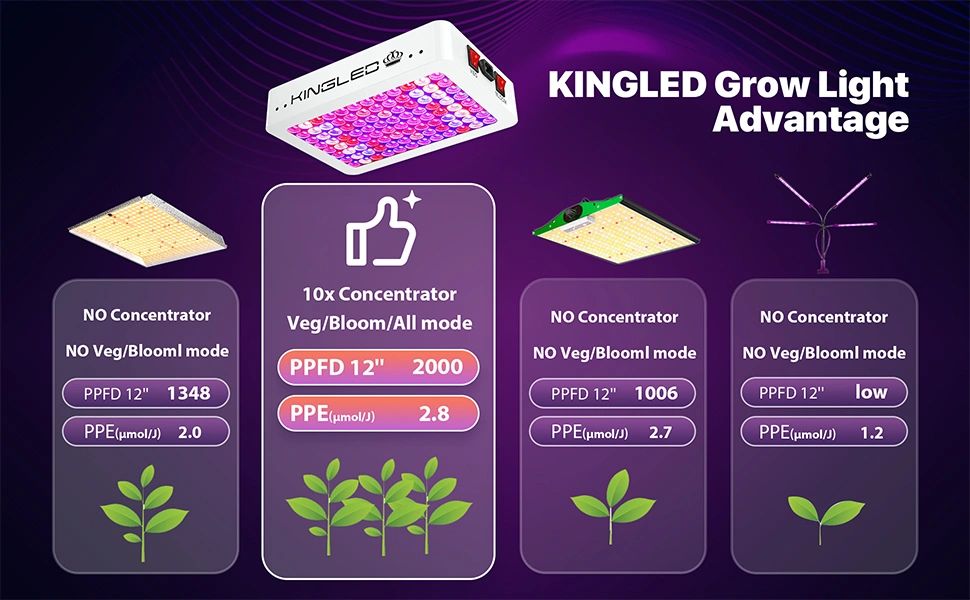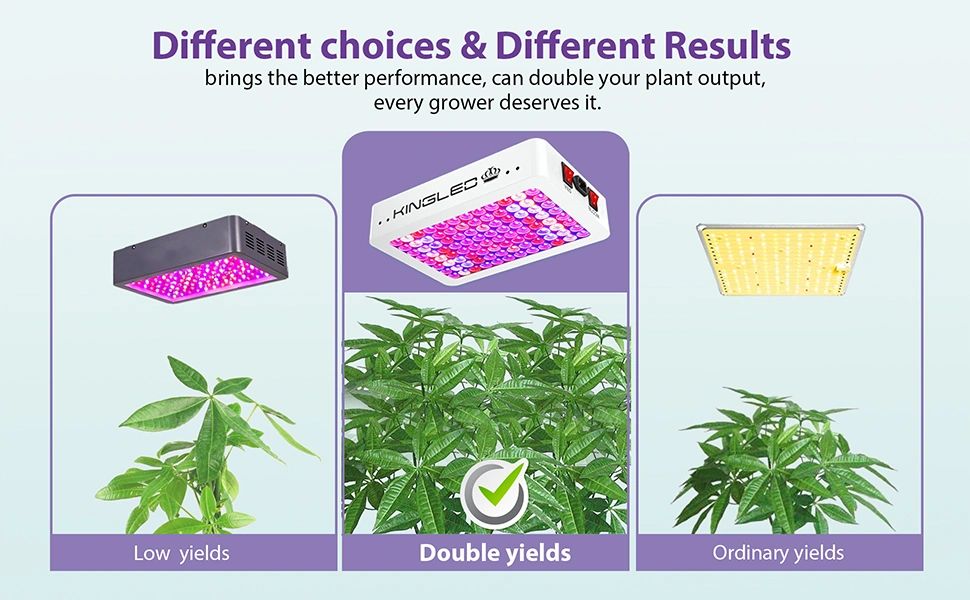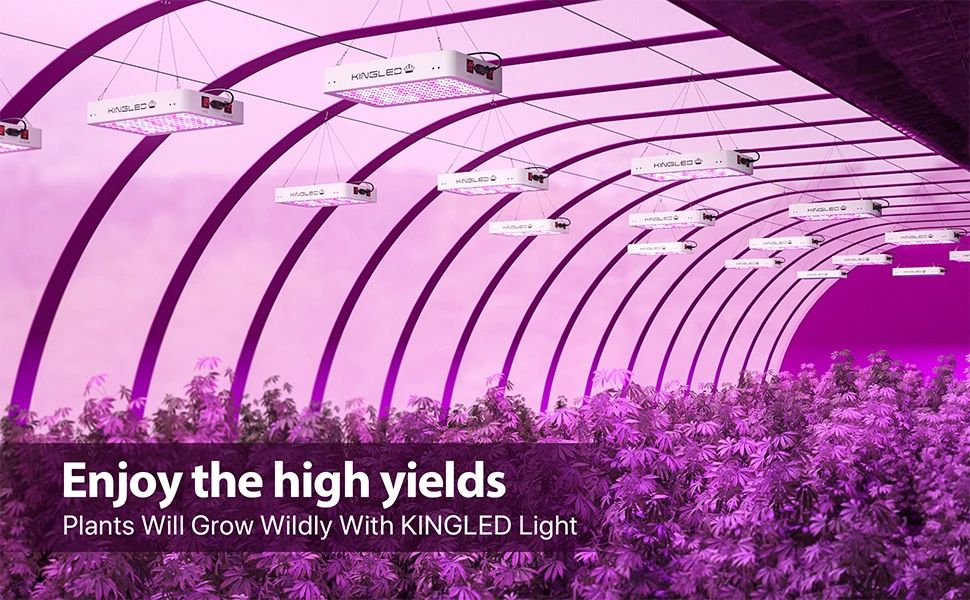 Reviews